I've finally decided on a name for the jacket/cardigan that I knitted for Peter. Unfortunately, it's not one that anyone suggested, but I certainly appreciate all the input from everyone! To show my appreciation (and to encourage people to leave comments), I'm going to randomly draw a name from everyone who commented or gave a name suggestion for Peter's coat, and send a gift, but more on that in a later post.
(
My take on leaving comments is like this: reading someone's blog is rather like coming into someone's living room. It's always nice to say a "thank you" or acknowledge the invitation. Perhaps you don't agree, and that's fine. It's simply my opinion!)
Anyway, we must trudge onward.
When I was growing up, my family went camping all the time. I'm not sure if it was because it was cheaper than staying in a hotel (
there were five of us, after all, and it's not easy to smuggle five kids and a dog past the hotel concierge -
trust me, I can say this from experience
), because the entertainment was better (
I have very fond memories of a certain incident involving my sister
Angie
and a rubber tube and a river . . .
), or because it was just plain fun, but camping was our primary source of vacation material. I have suspicions that it was a little of everything, and I would never,
ever
trade the memories for a "nicer" vacation spent at Disney World or some other artificial environment.
I mean, really, the magic of Disney cannot even begin to compare with this: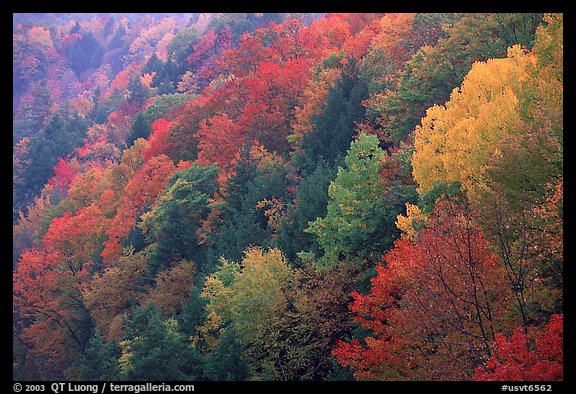 The
Great Smokey Mountains
was our usual camping location, and in particular,
Cade's Cove
. We did a lot of biking there on the "loop" which winds around several scenic landmarks and historic homesteads.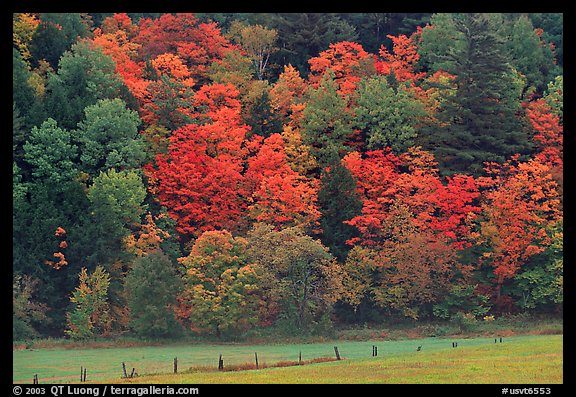 We spent a lot of our camping time at Cade's Cove in the Fall months. Let me tell you, the colors on display in the Autumn in the Smokeys is breathtaking, to say the least. So, in favor of overwhelming nostalgia, I'm naming Peter's coat "Cade's Cove Cardigan". I thought it fitting, since the cables are loopy like the Cade's Cove bike route, and the colors are so reminiscent of Autumn in the Smokeys.
Peter seems very happy with his coat. I put in a zipper front and pockets, too. I'm rather pleased with my pockets. I think they're warm for little hands, but I'm sure Peter thinks they're useful frog-holding containers.
I'm going to finish writing up the pattern, and perhaps next Fall I might try submitting it to
Knitty
. So far I haven't had any luck with publishing a pattern, but who knows, perhaps third time's the charm! If you're interested in knitting this, though, I could give you a copy of the pattern for "test reasons".
Pattern: "Cade's Cove Cardigan", my own design
Yarn: Lion Brand
Wool-Ease Bulky
Needles: US size 10
Gauge: 16 stitches/20 rows = 4 inches