After a lot of wrangling and puffing, I finally got Anouk done! On the whole, it was a fun and fast little pattern. I hope my
sis
likes it!
Okay, now a re-hash of the specs for those interested persons (if you're not interested, skip this paragraph, and hum a few bars of "Raindrops Keep Falling on My Head" while the rest of us catch up . . .)
Pattern:
Anouk
, from
Knitty
.
Yarn: 1 skein each of Caron
Simply Soft
in Denim Blue, Sage, and Pink.
Modifications (intended and otherwise, lol!): Little pink glass beads (
which were a royal pain to string on worsted weight yarn - hmph! Divas!
), crochet flower applique, and dress 1 inch shorter than it should be (completely unintended, but as stated before, I cannot count.)
Okay, all done. (
For those of you who've just joined us, now doesn't humming make your day seem a little better? Just don't start talking to yourself in public.
)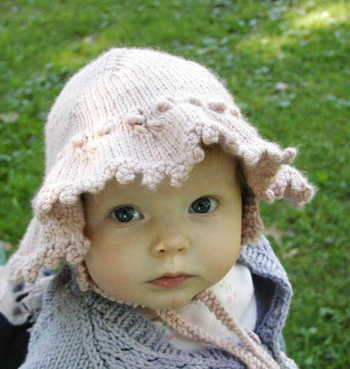 Next up for my sister's little "
girly girl
" is a possible hat and bootie combo. I was thinking of making
this hat
, but I'm unsure if that would work with acrylic worsted weight yarn (and I want to use the same yarn). Do you think the brim would be too floppy? Any advice?
I've also decided that I'm going to steal my friend
Danielle's
great bootie idea and
make this
. Aren't they so cute? Even if they never stay on wee one's feet, they're still adorable!