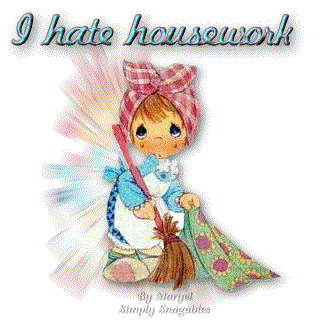 I don't teach on Wednesdays, so I like to use this day to catch up on house work (ha ha, not really!) and crafting projects that require more time than the usual itty-bits I have during regular days. It's also a day for me to catch up on some much-needed rest, so I'm looking forward to a long snooze this afternoon (and the kids had
BETTER
be sleeping too, or I'll sell them on
ebay
. . .)
I finished knitting the
Booga Bag
a few weeks ago, but I still needed to add the handles and liner, something which required my sewing machine. Since I'm not one of those blessed few who own an entire room devoted to crafts, I have to haul my sewing machine out of the depths of the darkest closet every time I need to use it. Therefore, sewing = a pain; knitting = much less a pain.
However, today being my "free" day, I hauled out the sewing machine and managed to get through all the little bits of mending that have been listlessly languishing in the mending pile. (
Hee hee, I couldn't resist the alliteration of "listlessly languishing". Very Anne of Green Gables, don't you agree?
).
So, I am happy to say that my first felted project is complete. I used my
smart sister's
advice and reinforced the bottom with a rectangle cut from a plastic folder. It worked perfectly, and I don't have to worry about it bending or getting warped if it gets wet. Also, it was thin enough that I could actually sew it into the bottom so it won't slip around.
I then added some nifty bamboo handles that I got on clearance at JoAnn Fabrics. Hmmm, that's not a very close picture of the handles, is it? Oh well, take my word for it, they're nifty. The original pattern called for felted i-cord handles, but I don't like the look of i-cord, and I wanted something with a different texture to break up all that felting. (
Okay, I just hate taking the time to knit i-cord. So what!?!
).
Finally, I sewed the liner together and then sewed it to the bag. Next time I sew a liner, it will be with stiffer fabric. This stuff was too thin, I think, and it was
such
a pain to keep in place! I also added a little magnetic closure to the inside so that stuff won't be as prone to fall out, especially as I have a bad habit of flinging my purse in the car while I'm frantically trying to stuff the kids in their car seats.
Pattern Specifics:
Yarn
:
Patons SWS
in
Natural Geranium
, 4 balls exactly
Needle Size
: US 10.5
Pattern Modifications
: CO 60, worked enough garter stitch rows to pick up 20 stitches along each shorter edge, and 60 along each longer edge. Then I switched to regular straight stitch and knit until I ran out of yarn.
Finished Size
: 12" x 8.5" x 4.5"