What a wonderful day I've had today! Andy had the kids all morning while I got some much-needed alone/free/childless time to myself.
First, I ate breakfast at my favorite local restaurant, Amigos, where I got to enjoy an entire meal without any spilled drinks, arguing, or having to cut up anyone's food into tiny portions. It was rather astonishing how much better food tastes when you actually have the time and spare concentration to
taste
it!
Then, I went to our annual county Fiber Arts Fair, something that I've been looking forward to for about a month. It's not a very big fair, and there's really not much there for you if you don't spin your own yarn, but it's still a lot of fun for me. This year, I was rather disappointed with the selection of yarn that was for sale by the vendors. The vast majority of yarns were 100% wool, which I can't wear. (
I heartily envy you people out there with iron skin.
) Thankfully, however, my
favorite vendor
from last year's fair was there, and I splurged at her booth. (
This is
a scarf I made last year from Sandy's yarn, which she called Single Worsted
.) All the yarn I bought was from her booth, which you can also purchase through her online store.
I bought four skeins of this plum colored yarn, which amounted to about 1,800 yards. I'm going to
try
to come up with some sort of light summer top for this. It's called Merino Sox, and is deliciously soft.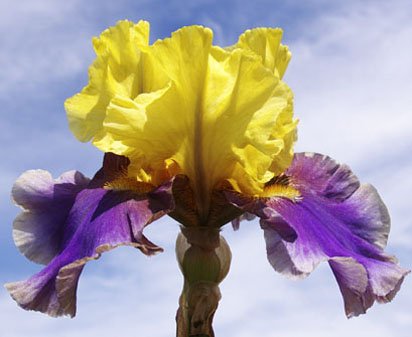 Then, because I just couldn't resist the cool colors, several different skeins of her
Pair of Sox
, a wool/nylon blend that's hand dyed in the most amazing colors. This particular skein I really liked, because it reminded me of some of my favorite irises which should be blooming in the next month or so.
This skein rather reminds me of African violets.
And finally, lest you think that
all
my color inspiration is stolen from flowers, I got this skein purely because it looked so "
Van Gogh
".
Now the real question is how long it will be before I give in to the temptation to cast on a pair of socks with this lovelies!