I love to scrapbook. I love the texture of the pages, the look of the many colors when paired with the photos, and especially, the ability to capture just a few of the special memories I've been fortunate enough to have experienced.
(I have a faulty memory. If I don't put it down, I will forget it.)
What was I saying?
Oh yes. Scrapbooking.
Anyway, the last few years have been very hard on my scrapbook capabilities. I don't have a designated craft room, so I have to haul all my stuff out to the dining room table to scrap, all while keeping an eye on the
little thieves
children to make sure they don't abscond with my stuff.
Going to a retreat
isn't usually fiscally possible.
Long story short, I'm getting farther and farther behind with my projects. At this rate, I will finish the kids' books when they have kids of their own. (
At which point I will most likely be saying, "kids, what kids? Pass me another martini . . . "
)
After doing lots of research, I decided to take the plunge into digital scrapbooking. I don't like the flat look of the pages as much as a real bonafide 4-inch-thick-scrapbook, but again, I'm getting desperate.
My choices were narrowed down to two,
Creative Memories
or
My Memories
. Both software programs were very highly rated. In the end I decided to go with the Creative Memories software for two reasons, 1) my consultant is nearby and could help if I ran into problems and 2) they have a fantastic sale going on and they ended up being the same price as My Memories (
usually CM products are more expensive than anything else out there
).
So far, I'm finding that the program is very easy to use. Best yet, I can download digital papers and embellishments from other sources into the program (
which is good, as I think CM's digital stuff is way over-priced and I don't really care for their designs anyway
).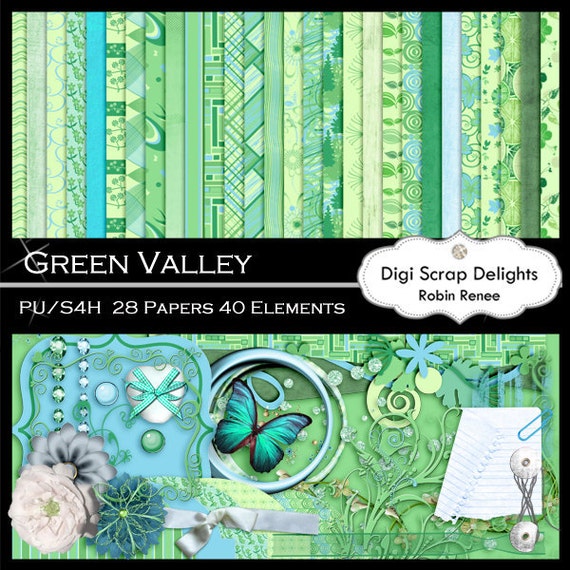 (Etsy is a wonderful place to find all sorts of digital scrapbooking supplies like papers and png. file embellishments.)
Here are two pages that I just completed. They are 12x12 sheets that I will have printed out (prices seem to be about $2 a sheet). Since these pages are for Miss Boo's book (which is already half done with traditional scrapbooking techniques) I am just going to slip them into the page protectors.
So far so good! it's faster (not much, but I'm just learning) than regular scrapbooking with MUCH less mess. (Plus it's easier to hang onto my laptop than multiple sheets of loose paper).
Are you a digital scrapbooker? What do you think about it?